About Myself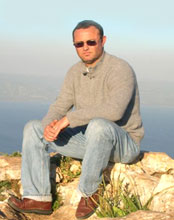 Born in Argentina 1962, immigrated to Israel in 1965.



Served in the Israel Defense Forces (IDF) in an infantry combat unit.



Worked in managerial positions in the hotel industry for almost 10 years.



Graduate of the Tour Guides' Course, Ministry of Tourism, Haifa University branch in 1997.



Special areas of expertise: History, Archaeology, Christianity and Judaism.



My hobbies include music (a wide range from rock to opera), knowledge of wines, cinema, sports, outdoor activities, and generally having a good time.



I am married (to a clinical psychologist) and have three children.




I have a diverse client base:
Families (including families with 5 children or extended families with great- grandmothers);



Corporate clients. (I have worked with: Alon Israel, Alon USA, Venture Capital, Intel, Eltel and others);



Performing artists (among them Sting, Neil Young, Metallica, Phil Collins and others).