recommendations
January, 2006
Mike,
Thank you from the bottom of our hearts. Your leadership, understanding, and advocacy made our trip to Israel a major event in our lives.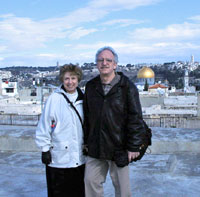 We will always treasure the days we spent together with you.
We arrived home to a wonderful greeting from all our children and grandchildren. They had dinner waiting for us. We lit nine hanukkiot here in our home. All the lights reminded us of the wonderful Hanukkah evenings in Eilat with you and lots of Israeli families. Our grandchildren lit their Israeli Hanukkiot for the first time with us tonight. We hope they will come to Israel and meet you for Hanukkah some day soon.
You are an amazing tour guide. Words are not enough for Sherry and me to express our appreciation for your guidance and assistance. Bravo, Mike.
Shalom u'vracha,
Warren Rubin
Plano, Tx.

March 14, 2006
My family, four vegetarians, a girl aged 16, a boy aged 18 and the two parents turned up to meet our guide Michael. The ultimate meat eater! What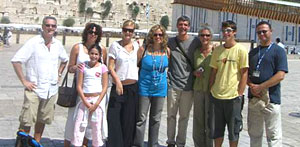 a great 10 days we had. Michael has an intimate knowledge of the history of Israel and of the various empires that have governed the area for the last 2000 years. This is not an academic knowledge that is communicated in a rather dreary school room fashion. The history of the area is Michael's hobby and within a few hours we were all fascinated. His skill in being able to keep my fairly academic wife and a couple of teenagers enthralled for the entire time was extremely impressive.
Any wish that we had was immediately sorted out and every moment was perfectly organized. Any small hiccups that occurred were dealt with without drama and even whilst white river rafting he remained calm - although as I recall it was he who lost his oar at a vital moment!
I can wholeheartedly recommend Michael - my family and I have been fortunate to travel to many areas of the world and I can say that not only for his knowledge, but also for his ability to gauge exactly what is required by his party at a moment in time, Michael is head and shoulders above the rest.
He even survived the diet without complaint, although I did notice him calling his wife at the end and asking if she could get a couple of steaks in!
With kind regards
ANDREW BARRS
Barrs Freer-Smith
London


April 5, 2006
Dear Mike,
It is a pleasure for me to extend to you my heartfelt recommendation to your company. In each of the many times you have guided my family and friends throughout Israel, the consistent feedback I have received has been "unforgettable" and the "experience of a life time". I feel the same way each time I visit sites in Israel with you.
Your knowledge, joined with your easy going way, makes each experience, well, unforgettable. Continued good luck!
I look forward to seeing you again soon in Israel,
Sincerely
Jeff Morris
President and CEO
AlonUSA

December, 2005
Michael,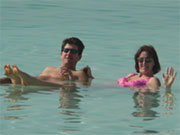 We just wanted to say thank you again for guiding us through your beautiful country. We could not have imagined a better trip to a place with such history and a guide with such knowledge and personality. You truly are an excellent resource and now a good friend. We look forward to returning at some point in the near future and hope you will be available to spend some time with us again. We've also enclosed a picture of our kids who we hope will someday have the privilege of being your clients.
With warmest regards,
Harlin and Elizabeth Dean
Allen, Texas

February, 2006
I WOULD 100% RECOMMEND MIKE. We have used him twice, the most recently this past December (2005). Here are some reasons why: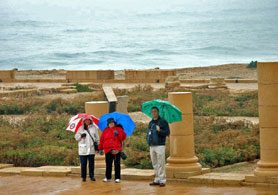 1. He is very personable and flexible. He will develop an itinerary based on your needs, budget, wishes, time limits etc. If there is something you need changed, he will not hesitate to do it just to make you happy.
2. His English is excellent and he is very easy to understand.
3. He is extremely knowledgeable. There was no question that he did not have an answer for.
4. He is very reasonable as far as fees go.
5. Five years ago, when we were first looking for a guide, he was the only one who called us directly from Israel to ask us questions. His independence is a great plus.
It is pleasure to unequivocally suggest him to you.
Ferne Farkas
Plano, Texas

March 19, 2006
Dear Mike,
We wanted to write you as soon as we got off the plane because we can not stop talking about our amazing trip to Israel. When the week began we were excited to begin exploring a country that we always wanted to go to and as the week unfolded each step of the way you unlocked the beauty and wonderment of Israel. We did not think we could comfortably cover as much of the country as we were able to cover because of you. You knew how much to stretch us everyday without losing the interest of our 10 and 13 year old girls. Everyday had just the right amount of culture, history and fun stuff to keep everyone excited about the next day. We also enjoyed your incredible knowledge of everything from the deep historical knowledge base, the religious insights into all the religions born in Israel as well as all your "local knowledge" of where the best places are to eat and, of course, where to get the best coffee along the way.
Every time we mentioned something that we wanted to experience you somehow incorporated it into the next day's activities (We wanted to plant trees and the next day you had arranged it). Your patience with my daughters was also truly impressive. My older daughter said about a half a dozen times the last two days "I am going to miss you Mike".
Mike, as I told you when we parted on our last day, you now have four new friends in the USA. Thanks for everything and we can not wait to plan our next trip with you!
The Stein Family
Short Hills, NJ

E-mail addresses or phone numbers of these and other clients will be furnished upon request